O'Keefe's Waterfront Inn can make dive arrangements with all of Yap's Dive shops. Please email us for information using the links here. Just click on the dive shop name and we will send information regarding the Dive Shop of your choice based on your query.
Choose From the Following Dive Shops in Yap.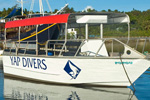 Yap Divers
Adjacent to the Inn. Award winning Yap Divers is Yap's first PADI Golden Palm Resort and is adjacent to the Manta Ray Bay Hotel thus forming Yap's first PADI Gold Palm Resort. With Yap Divers, you can be assured of clean, pure air, safe diving, and a full range of instruction available from Open Water through Divemaster. We also offer a number of specialty dive certifications for those who want to expand their formal dive training, and we are home to the only place in the world where you can do the PADI certified Manta Ray Awareness Course. This makes for a perfect combination to enhance the Yap Island vacation...
For more information about Yap Divers, contact us.
---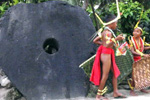 Nature's Way
A short walk from the Inn.Ever since its inception in May, 1993, Nature's Way has been striving to contribute to developing Eco-tourism in the state of Yap. Its founder, late John B. Iou wanted Nature's Way to be a learning institute where both the local islanders and visitors can get together to learn from each other about improving our environment, community, and way of life.
For more information about Nature's Way, contact us.