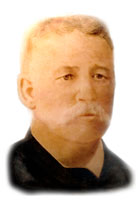 O'Keefe's Inn and the historic O'Keefe's kanteen, reflect the style, camaraderie, and hospitality of Captain O'Keefe, and his time in Yap's History. Captain David Dean O'Keefe, one of the Pacific's legendary figures, departed Savannah, Georgia and eventually arrived in Yap in 1872 and soon established his elegantly furnished home on the little island of Tarang in the main harbor, the remains of which can still be seen today.
 
For more information about Captain David Dean O'Keefe, click here.
---

Captain David Dean O'Keefe opened O'Keefe's Kanteen, a small store and bar for local residents at its present location circa 1874. This Irish-American adventurer accepted copra for the transport of Yapese stone money from Palau and this enabled him to obtain power in the islands and wealth in the Hong Kong market for over 30 years. He disappeared at sea in May 1901 on a return trip from Hong Kong.
---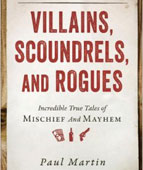 Yap, and its famous historical character Captain David Dean O´Keefe, is featured in a new book by Prometheus Books. In Villains, Scoundrels, and Rogues: Incredible True Tales of Mischief and Mayhem, author and former National Geographic editor Paul Martin serves up thirty of America's most memorable rogues, including O'Keefe.
 
"The stone rai produced during O'Keefe's heyday can still be seen around the island, standing here and there in the thick vegetation and weathering slowly in the tropical sun and rain. The pioneering trader's memory is also kept alive at two establishments located along Yap's harbor—O'Keefe's Kanteen, a historic store, and O'Keefe's Waterfront Inn, a colonial-style lodge. Visitors who make their way to Yap, a celebrated diving mecca, can stop by the bar in O'Keefe's Inn and hoist a rum punch in memory of the American who, for thirty years, loomed over these islands like a colossus—one of the western Pacific's most memorable characters of the late nineteenth century."
---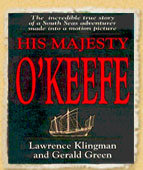 Guests may purchase the book, His Majesty O'Keefe,at the front desk or read a copy in the library. A best seller (1951) "His Majesty O'Keefe", written by Lawrence Klingman and Gerald Green, documents his life and the impact he had on Yap Island.
---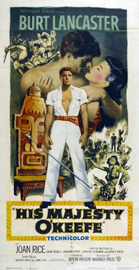 The book, His Majesty O'Keefe, was later made into a motion picture starring Burt Lancaster.For more information about the movie, click here.